Lost Party 2021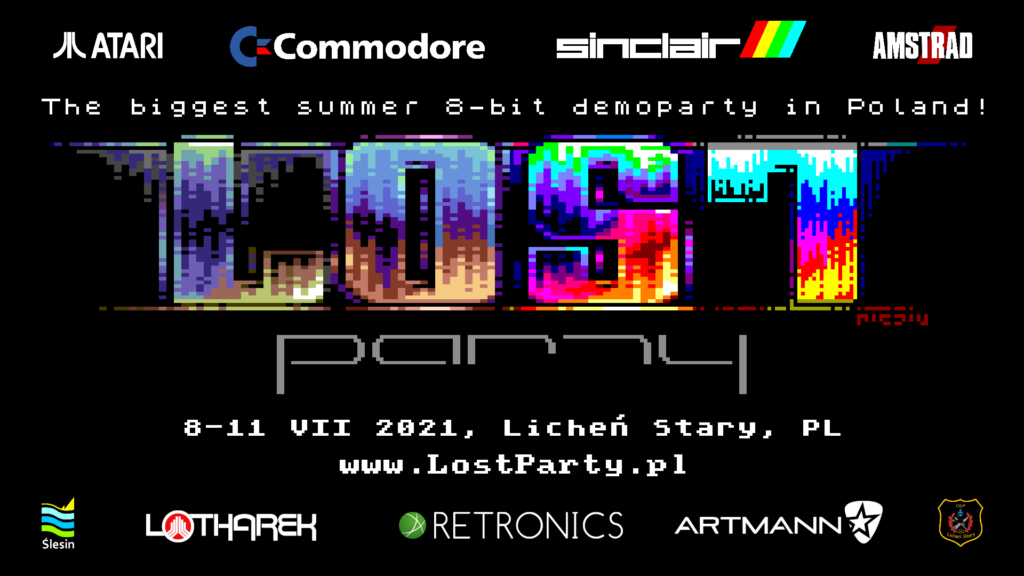 Last week, July 8-11, 2021, Lost Party 2021 took place, and, for the first time in my life, I took part in a demoscene event. Far beyond the nerd's comfort zone, firmly into the unknown. I only knew that there are logos of all the most popular 8-bit computers in Poland on the leaflet 😀
The event had a rather loose and mostly evening agenda. First of all, it was an opportunity to meet other 8-bit users in Poland, listen to Katod's concert.
All attractions and results can still be viewed on the recorded stream on YT, also available on the website.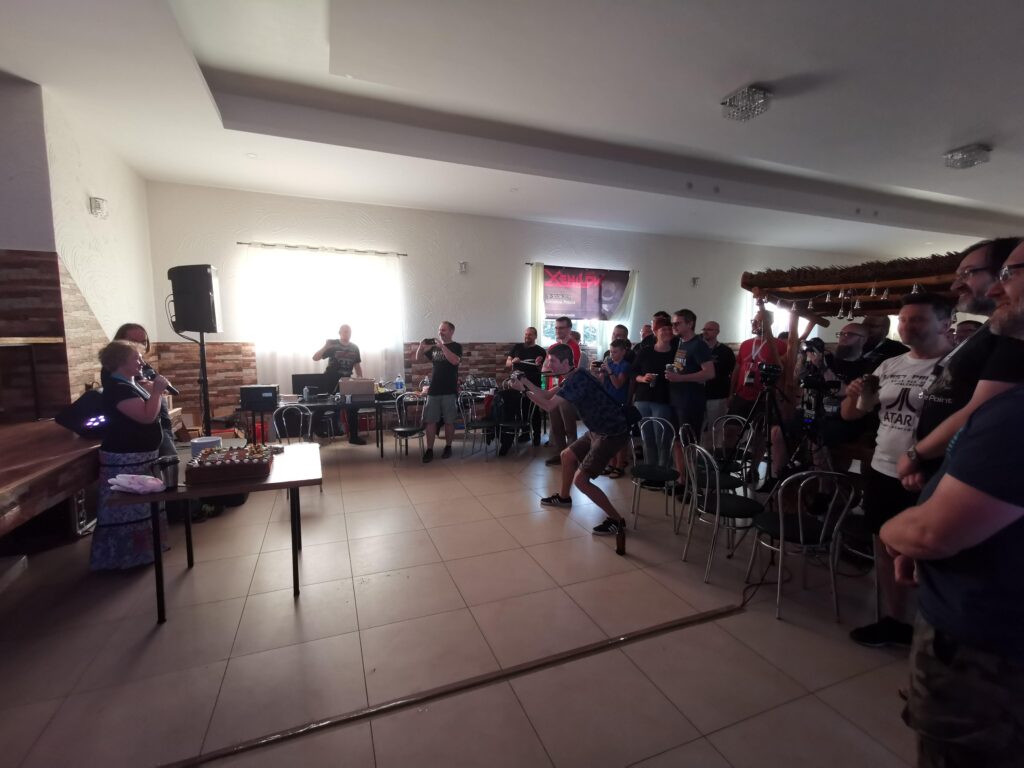 We saw contests for graphics, music, intro and 8-bit daemon, and – or maybe most of all – two great, brand new games for Atari, The Last Squadron and Flob.
The artistic value of some of the artwork was amazing! There were also some perfectly illustrated and very Polish political jokes – here is the work "now you don't have to be afraid of it anymore" on the Atari XL / XE by an unsigned author: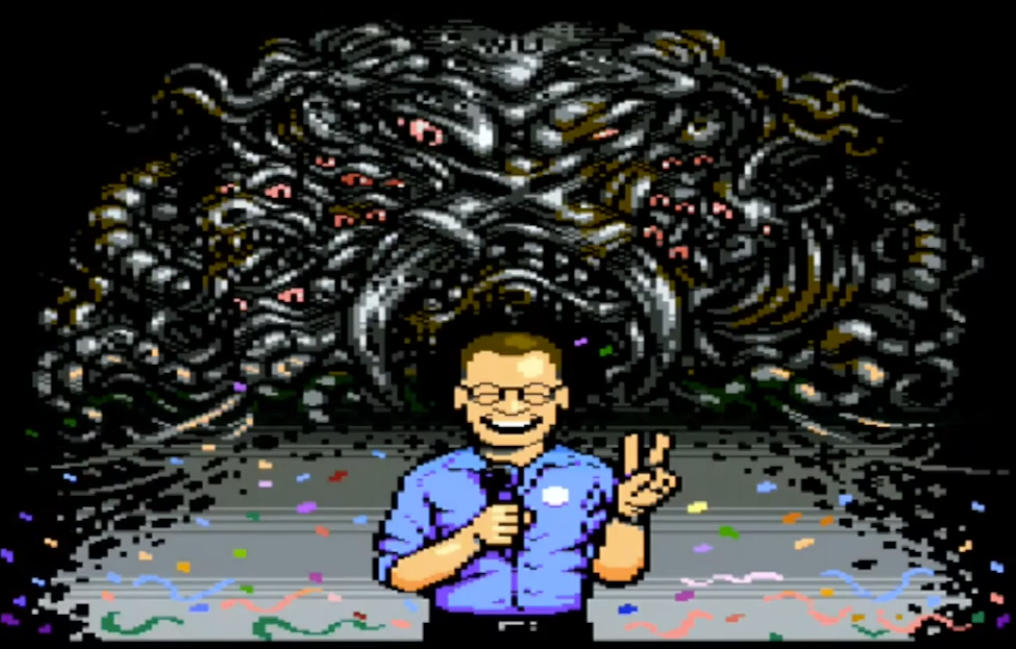 The musical works were all of a high standard. I recommend listening to the stream fragment where they are presented, in your free time! No less impressive is what people can do in/fit into 256 bytes of memory (e.g. heatmap-like blob animations or geometric hypnotizers full of colors ;-)).
As for the "substantive" things, the two aforementioned games were extremely interesting.
The Last Squadron is a shooter already described, as I have seen, as the best in the 40-year history of Atari, in which, by controlling a fighter, we try to defeat hordes of enemy ships and buildings. There was a competition for the highest score, Oswald won, scoring over 50,000 points, and with my 7.4k I can hide and not come back at best. In case of difficulties while playing, I recommend trying different joysticks and pads, the game is incredibly addictive.
The flob is a completely different type of game, more static and requiring more brains (but often no less dexterity). In this game, we are a tiny pink slime, which must collect more droplets of slime to survive, and its goal is to find a recipe to produce more of it and live forever (and conquer the world). The first words of the guy who stepped back giving me the controls were "I don't know how to jump." Well, turns out you can walk, but … you can't jump. In this game, we can only turn the world upside down and fall gravitationally in the direction that used to be up. It requires a lot of thinking, imagination, maneuvering in flight (actually while falling), and unfortunately also remembering what awaits us at the end of a given fall. The game is demanding and I just had to buy a boxed version, even though I don't have Atari in my collection yet :-). To make the transaction sweeter, I also got a small portion of a pink slime and … a photo with a team of creators / producers 😀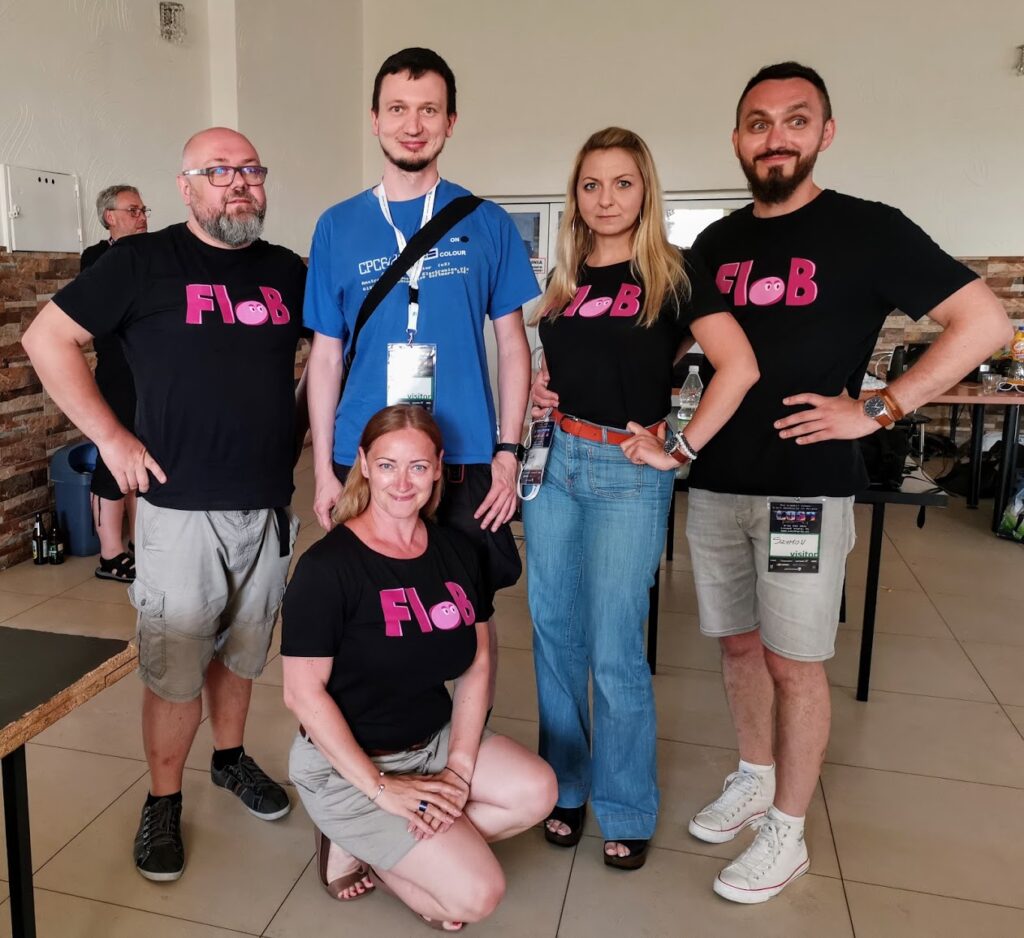 There is also the second side of participation in this type of event – the one I was particularly afraid of as an introvert, but appreciated no less. Human interaction.
I had no idea what I was signing up for and what this event would look like. As the organizer himself said at the end, it is "a meeting of colleagues who usually know each other anyway" and "an event of 40-year-old guys with 30-year-old computers" (I'm afraid that this text is at least 5-10 years old, judging by the age of computers). But it is not a closed group, and there were more people who were in such an event for the first time (greetings to Czarek and Magda!). I could see Katod at concert from close distance and in hi-res, see how Lothark loves cute girls in hats with raising ears (ha!), how important part of grilling a sausage is pouring it with nestea and learn that I would not be less stressed by work and would not bring it home any less if I was a simple salesman at a countertop.
I would like to thank all the people with whom I had a word. Especially Kamil "Gorgh" for recognizing me and making me aware that the RetroFun.PL project is recognizable by anyone already, Argasek for entertaining, serving suspicious alcohol and "taking care of" us, Charek and Magda for the company and talks and, above all, henzelek ;3 for persuading me not to give up my trip and all the support all the way through.